NADINE'S PERSONAL PHOTO GALLERY II
These are pictures through the years of me, my pets and whatever else I felt like scanning. Photo Gallery I is of me, my family, other people and places. I split up the pages in the interest of download time. There is a picture of my cat, Kitty, on The Elusive Chipmunk page (link at end of photos below).
UPDATED! New additions made on Feb 3, 2009. Whoopee - more to look at!
Do YOU love animals as I do? Over 27,000 animals are abused, abandoned, or neglected daily. You can help - just click on the purple Animal Rescue Site button and help feed an animal for free. Take the Pledge to end animal cruelty. Click on the ASPCA button and follow the links to the Pledge page.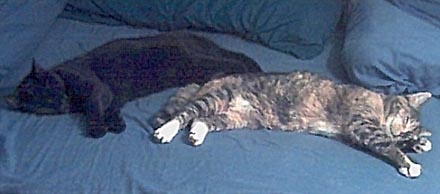 2007 with my two loves, Kiki and Loki (boy). Wylie, my coyote boy - I found him in a parking lot on a Sunday in a shopping district - I opened my door and he climbed in, curled in a ball, and fell asleep. I reported him, but no one ever claimed him. Lucky me, he lived to be almost 15 - I miss him very much. Wasn't he handsome?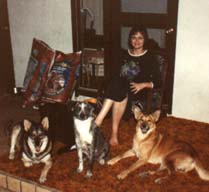 This was taken on my front patio of my house in San Jose - at the time I had 4 full grown dogs. My shepherd/wolf, Sheena, (on left) I found in a newpaper ad for puppies - I got her at a couple of months old. Wylie (on right) was a stray. The old black lab, Princess, (she doesn't show up very well - she's the dark space between Sheena and Pepper) I adopted at 10 years old - they didn't WANT her anymore!! My boyfriend, Dan, kept her and loved her until she died. And the black and white mutt, Pepper, (in middle) I saw two days in a row coming home from work - she was dumped off pregnant in an industrial area. It took me an hour to coax her to me. Notice the 50lb bags of dog food...Princess and Sheena in right side photo.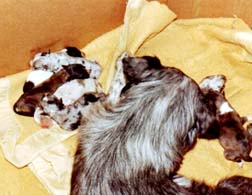 Pepper ended up having 8 puppies that Dan delivered! Here she is in the whelping box with her brood of 7 surviving puppies. Dan, on right, who loves dogs, kept 2 of Pepper's babies and found homes for all the rest.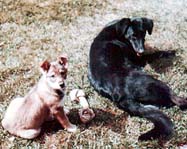 Sheena (AKA Wolf Girl or Ball Face) at 9 weeks old - same size as the chewy toy. Sheena and Brandy, my Black Shepherd/Black Lab mix. I never had to train Sheena - she did whatever I told Brandy to do. Sheena was the smartest dog I have ever had.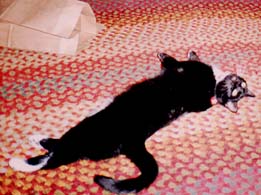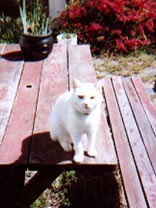 Kitty sprawling (formally named Selena) on kitchen floor with one of her favorite toys - a paper bag (Bagcat). At right - my all-white cat Amber.


Here are Kiki the healing cat and Tommie TuTone the latest stray orange tabby who has moved in. They don't look impressive, but they are both very sweet. I found a new home for Tommie - he nows lives on a farm and his new family loves him. A good thing, because the all female cat menagerie here didn't!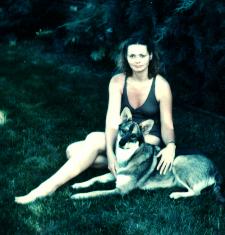 I was 28 and Sheena was a year old. Taken on front lawn of the first house my ex-husband and I bought when we moved to Cupertino, CA. I nicknamed her "Ball Face" because she always had one in her mouth and expected me to throw it. One time, back in NJ when I was taking her swimming to a local creek, she kept bugging me to throw her a stick - I picked up a rock and threw it into the creek - figuring it would keep her busy and distract her so I could quietly enjoy the scenery. She dove in and came back with the same rock I threw in!! It became the new game. I would watch her under water - blowing bubbles out of her nose until she found what I threw in!! Amazing dog. I miss her too.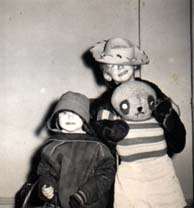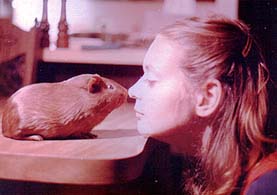 On the right, a happy time in my childhood with my cousin Bo. Left, when I lived in Wilkes-Barre, PA in a townhouse from 1971-1974, I couldn't have a dog - so I had hamsters and a guinea pig. It used to squeal like crazy ( an extremely high pitched squeal) when I opened the refrigerator door because it wanted lettuce and carrots. In the interest of my loose hold on sanity, I gave Guinea away to a friend who had children.


My 1964 Red MGB - the first car I bought for myself (not my first car, however). I had a 1968 Triumph TR-250 after this and a 1969 MGB-GT, too. Could never afford a Jaguar, though. To the right is the first car I bought on time payments from a dealer (traded in that 1969 MGB-GT). I loved the cars in 1977-1979. I always wanted a Lincoln Mark V.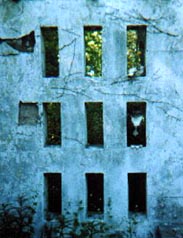 The wall in my courtyard with neighbor's cat, Eddie, in one of the holes...I wish I could get all the cats
to pose in there like tic-tac-toe, but I won't hold my breath! Now, turn left and you'll see: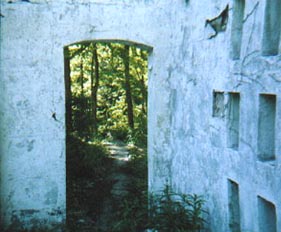 ...an archway/opening that used to have a metal
wrought iron gate and the path leading down to: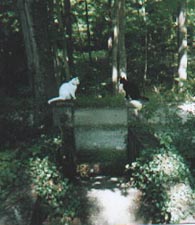 ...the steps with two cats, Kitty and Amber,
conveniently posing like stone lions on columns.
THAT was a lucky shot!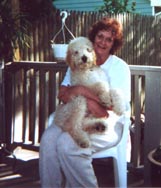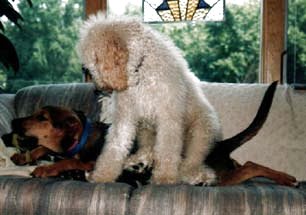 Here's one from the summer of 1999 of my sister Carol and her apricot standard poodle Rugbug. Rugs and Merlyn playing on couch - Rugs was sitting on top of Merlyn in this picture!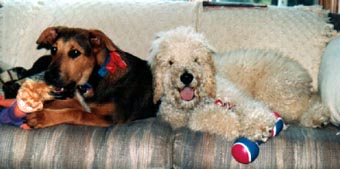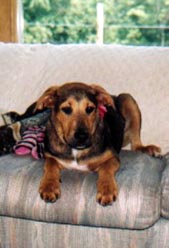 More of these two peas in a pod (both 7 months old at the time). They love one another and are always touching and playing. Unfortunately, I had to give Merlyn away to a new home and Rugs really misses his buddy.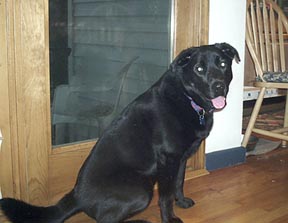 This is my new dog companion, Max. He's part Labrador Retriever and part Norwegian Elkhound. I adopted him at a year old in November 2002. He's a bruiser boy so I decided Max is short for Maximus from The Gladiator. He loves the kitties. He and Rugs have met and seem to get along OK. Since I've moved to PA I gave Max to a friend who has a chocolate Lab named Kahlua and they are good buddies.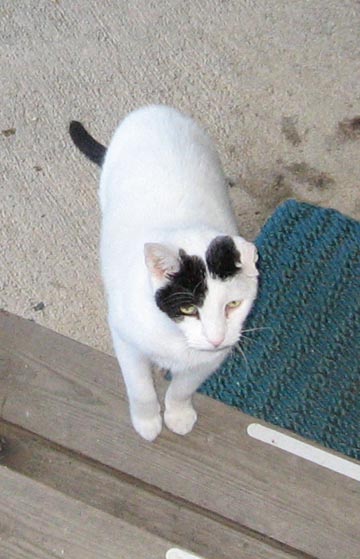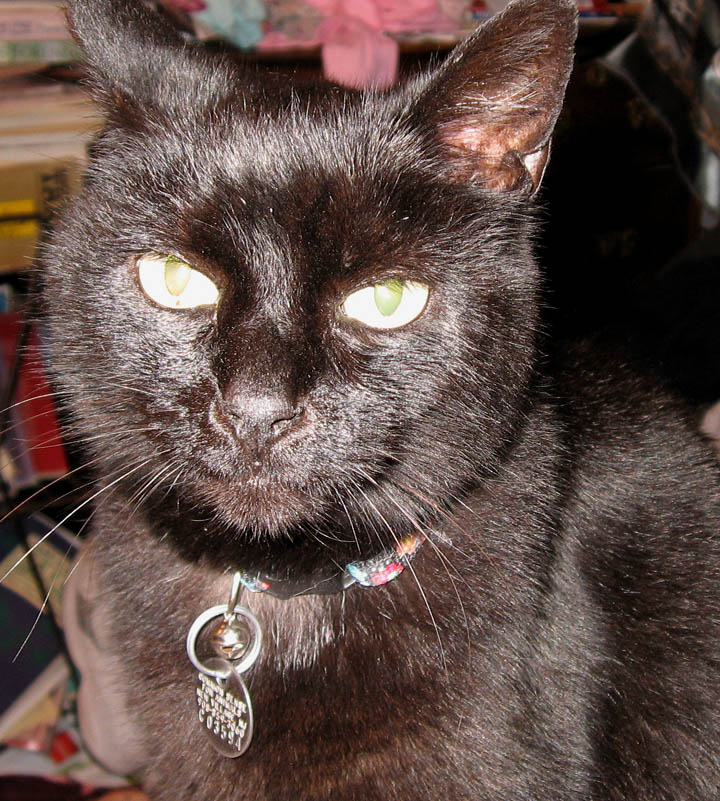 My current cat companions - both rescues - Smokey and Samantha

me at designer1951@verizon.net with your effusive commentaries.
Updated 03 Feb. 2009.
Go to Nadine's Personal Photo Gallery I.

Go to The Elusive Chipmunk.

Back to HOME