Empow Wow Chatroom Directions
No Fuss! No Muss! Easy As Pie!
It's Fun! It's Private! It's Ours!
Before you run on over there, make sure your browser is Java enabled. In Internet Explorer click on Tools, Internet Options, Security tab.
If you are Java enabled here's what you may encounter when you click the blue chat button below:
Maybe an advertisement will pop up first...scroll to bottom and click a "No Thanks" button to continue. On next page enter your name (and optional profile or your mood) and click blue "chat" button to enter room. The fonts are customizable in the chat applet window that opens up next - under "Options" you can pick a font, make it bold, and increase size a couple of times. Seems that only black font is available.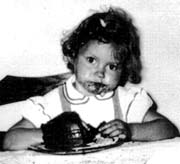 Your hostess stuffing her face with chocolate cake

READY?!! Goody! Click on blue "Chat Now!" box below to start the chat applet and to enter our Special Super Duper Member's Only private Empow Wow Chatroom. See you there.


Check out Nadine's Realm.